Youth Apprenticeship Readiness Accelerator (YARA) Program
8 Week Pre-Apprenticeship Program
Orientation August 25th 2023
Program begins August 28th 2023
The Youth Apprenticeship Readiness Accelerator (YARA) Program is offering a 8-week pre-apprenticeship program for Rancho Cordova youth aged 16-18 interested in pursuing careers in construction. Gain hands-on training and real-world experience to prepare for success in this high-demand field. Don't miss out on this opportunity to accelerate your career in construction with YARA!
Available to Rancho Cordova Youth Ages 16-18
Halloween Trunk-or-Treat
Friday, October 27th
Join us for a spooktacular Halloween Trunk-or-Treat event on October 27, 2023, at the Rancho Cordova Youth Center from 5pm to 7pm.
This event is absolutely free for all youngsters under 18, and it comes with a bonus—a free pumpkin patch!
Get ready to flaunt your Halloween best in our thrilling costume parade. There's something for everyone in the family, with loads of family fun, games, and chances to win exciting prizes.
Come one, come all, and let's make this Halloween a memorable and fun-filled evening!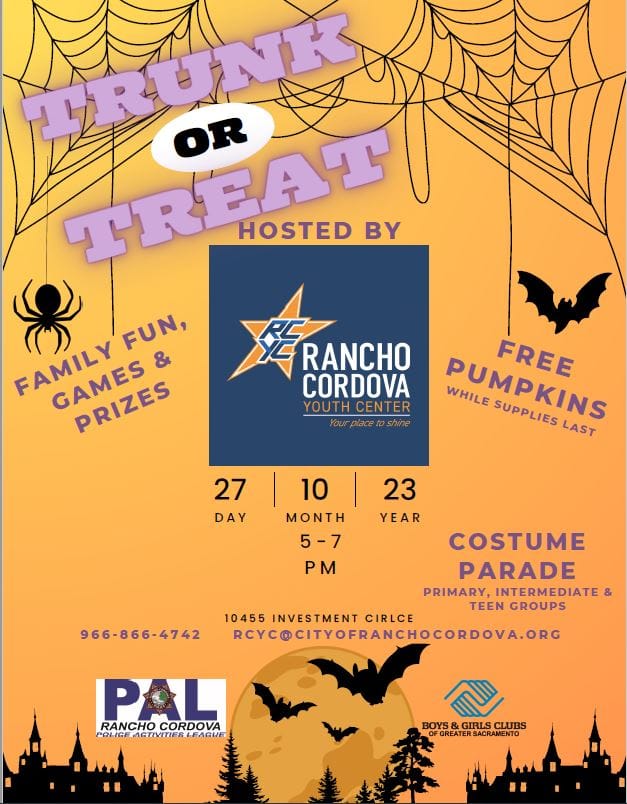 Archived News
---
Stasyuk 5th Annual Fishing Tournament
September 9th 2023 - Folsom Lake
---
American River Trail Bike Ride
August 27th 2023
---
Junior Giants League
Mid-June 2023
---
Back To School Bash
July 21st 2023 - Rancho Cordova Youth Center
---
Adventure Club
June 24th 2023 - Folsom Lake
---
Youth Apprenticeship Readiness Accelerator (YARA)
June 2nd 2023 - Rancho Cordova
---
Camping Trip
May 27th - May 28th 2023 - Folsom Lake
---
Positive Altitude
May 21st 2023 - Mather Jet Center
---
Kick-Off To Summer End of School Celebration 2023
May 20th 2023 - Rancho Cordova Youth Center
---
Laser Tag at Jas Tag Laser Tag
April 22nd 2023 - Sacramento CA
---
Life! Camera! Action!
January - April 2023 - Sacramento CA
---
Rock Climbing
March 2023 - Granite Arch Climbing Center
---
Hiking Trip
February 2023 - Folsom Lake Trails
---
Boxing Club
October - November 2022 - Youth Center
---
Pumpkin Patch
October 15 2022 - Dave's Pumpkin Patch
---
Martial Arts
July 19 2022 - Lee's Korean Martial Arts
---
STEM Summer Classes
June - July 2022 - RC City Hall
---
Positive Altitude
May 21, 2022 - At Mather Jet Center
---
Kick-Off to Summer
May 17, 2022 - Le Five Indoor Soccer
---
Kids Day Fiesta
April 23, 2022 - Hagan Park
---
Hiking Trip
April 9, 2022
---
Rock Climbing
March 12, 2022
---
Christmas in Cordova
November - December 2021
---
Holiday Run
December 18, 2021