Marshal Gold Discovery State Park
Registration Closed
Pioneer Day
Saturday, November 4th
For kids ages 8-16
Join us for an exciting and educational day of adventure at "Pioneer Day" on November 4th, from 10 AM to 2 PM! This special event, organized by the California Pioneer Heritage Foundation, is tailor-made for young explorers aged 8-16. Immerse yourself in the rich history of California pioneers, as we offer a hands-on experience that will transport you back in time. From interactive exhibits to engaging activities, Pioneer Day promises an unforgettable journey through the past. Don't miss out on this unique opportunity to connect with our heritage and create lasting memories!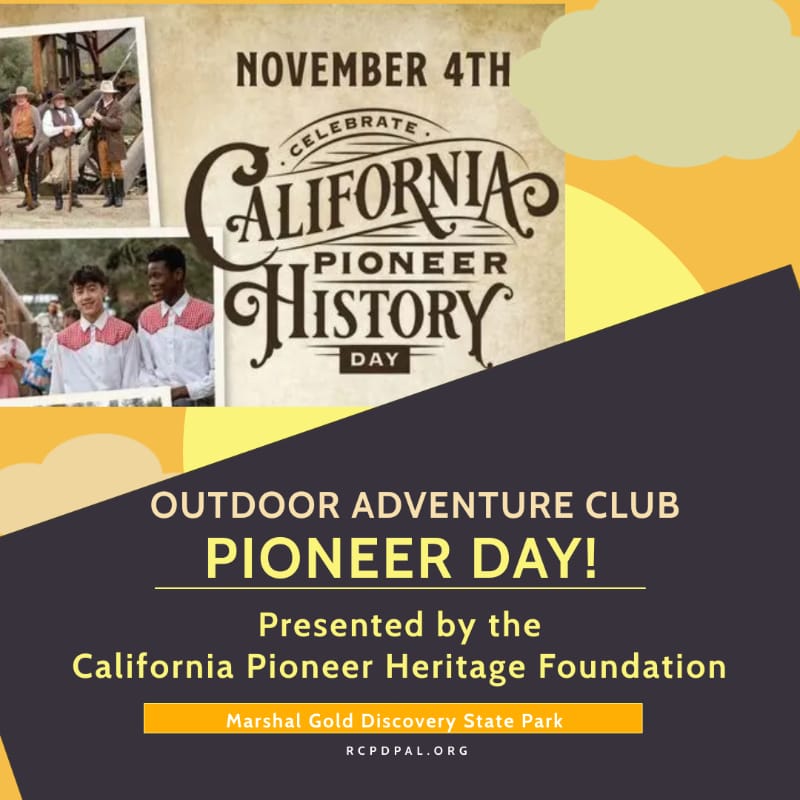 Visit The California Pioneer Heritage Foundation
Rancho Cordova Youth Center
Register In Person
Christmas In Cordova
Applications can be filled out between 2:30pm - 6:00pm on the following days:
Tuesday October 10th - Friday October 13th
Monday October 16th - Friday October 20th
Monday October 23rd - Friday October 26th
Rancho Cordova's 13th annual Christmas in Cordova event returns in December 2023! RCPD's Youth Services Unit supports families in need during this event that is designed with the simple premise that "every child deserves to have a present to open at Christmas."
The event features a drive-through pick up of new toys and gift wrap hand-picked by RCPD officers for parents for their children.
Open Enrollment for the 2023 Christmas in Cordova is now open! For information on eligibility requirements and instructions to apply, please view the flyer below."
Archived News
---
Halloween Trunk-or-Treat
October 27th 2023 - Rancho Cordova Youth Center
---
Youth Apprenticeship Readiness Accelerator (YARA) Program
August 25th 2023
---
Stasyuk 5th Annual Fishing Tournament
September 9th 2023 - Folsom Lake
---
American River Trail Bike Ride
August 27th 2023
---
Junior Giants League
Mid-June 2023
---
Back To School Bash
July 21st 2023 - Rancho Cordova Youth Center
---
Adventure Club
June 24th 2023 - Folsom Lake
---
Youth Apprenticeship Readiness Accelerator (YARA)
June 2nd 2023 - Rancho Cordova
---
Camping Trip
May 27th - May 28th 2023 - Folsom Lake
---
Positive Altitude
May 21st 2023 - Mather Jet Center
---
Kick-Off To Summer End of School Celebration 2023
May 20th 2023 - Rancho Cordova Youth Center
---
Laser Tag at Jas Tag Laser Tag
April 22nd 2023 - Sacramento CA
---
Life! Camera! Action!
January - April 2023 - Sacramento CA
---
Rock Climbing
March 2023 - Granite Arch Climbing Center
---
Hiking Trip
February 2023 - Folsom Lake Trails
---
Boxing Club
October - November 2022 - Youth Center
---
Pumpkin Patch
October 15 2022 - Dave's Pumpkin Patch
---
Martial Arts
July 19 2022 - Lee's Korean Martial Arts
---
STEM Summer Classes
June - July 2022 - RC City Hall
---
Positive Altitude
May 21, 2022 - At Mather Jet Center
---
Kick-Off to Summer
May 17, 2022 - Le Five Indoor Soccer
---
Kids Day Fiesta
April 23, 2022 - Hagan Park
---
Hiking Trip
April 9, 2022
---
Rock Climbing
March 12, 2022
---
Christmas in Cordova
November - December 2021
---
Holiday Run
December 18, 2021