Programs
STEM Summer Classes
Ignite your child's passion for STEM (Science, Technology, Engineering, and Mathematics)
This summer engage with our educational STEM summer classes! Designed to inspire curiosity and critical thinking, our classes offer hands-on experiences that explore various STEM disciplines. From robotics and coding to chemistry and physics, your child will embark on a journey of discovery, creativity, and problem-solving. Our experienced instructors create a dynamic and supportive learning environment, ensuring that each child receives personalized attention. Whether your child is a budding scientist, a future engineer, or simply curious about the wonders of STEM, our summer classes are the perfect opportunity to cultivate their interests and expand their knowledge. Enroll now and watch your child's confidence soar as they unlock the limitless possibilities of the STEM world!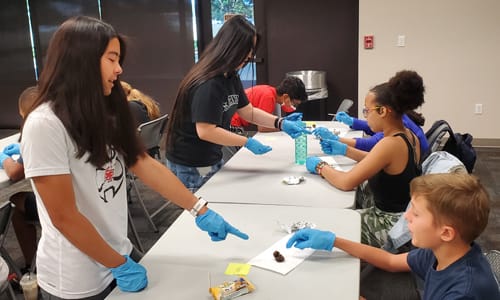 STEM Expo 2023
The program will kick off at Mather Airport on Friday, August 25th, beginning with an 'Ask Me Anything' Conference & Mentor Luncheon featuring remarkable speakers and newsworthy role models from North America's top aviation and aerospace fields. All participating students will receive family passes to enjoy the show on Saturday & Sunday (September 23rd & 24th).
Mentors, role models, local youth clubs, and academic institutions will be on-site throughout the weekend with ideas to help program participants understand 'what's next and how they can continue their interest in aviation, aerospace & STEM education, including information on how to join and pursue fun and STEM-related activities long after the air show gates close. In addition, they will learn about scholarship, internship, and mentorship opportunities.
Friday August 25th | Mather Airport
11:00am - 2:00pm
- Registration Closed -